What are the best video-creating and editing software? 9 best Software to edit videos like a pro
In this digitalized world, editing has become part of every industry and personal life. Whether it's about posting your picnic pictures and videos or for marketing campaigns editing software plays a vital role. There are numerous expensive and free editing software available in the market.
Hence, choosing the right software or app according to your requirements isn't a piece of cake. To save your time, we have brought the some best software's to convert your basic video into a slick, polished, and attractive video. We have tried to bring out the best and key features of this software so that you can choose the most convenient software effortlessly does not have any doubt about What are the best video-creating and editing software.
9 best software to edit and make videos like pro
If you want start learning video editing or video creating and doesn't know from where you should start. First question which comes in mind of every newbie that What are the best video-creating and editing software available in the market that you can use and completely fits your needs.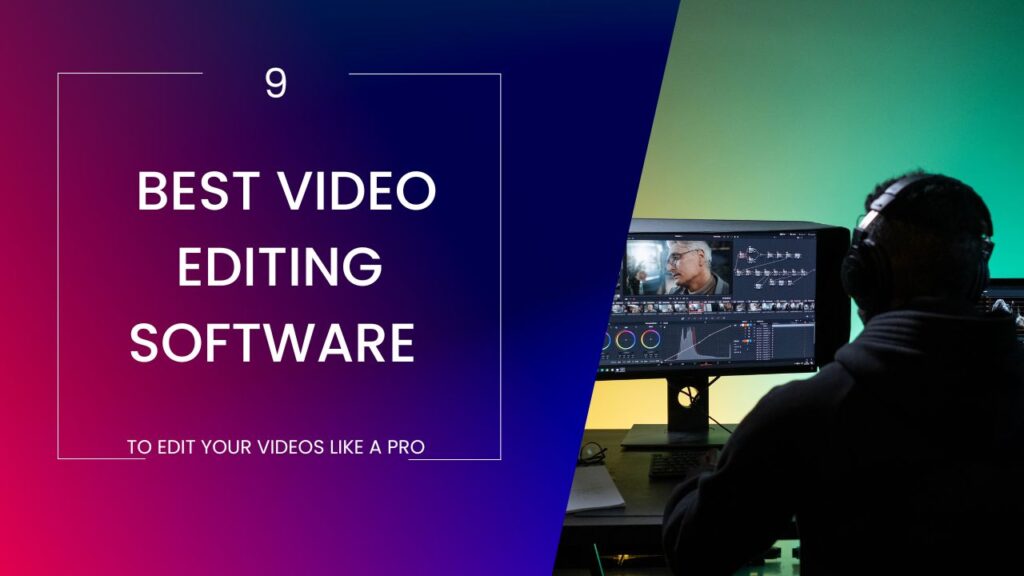 So for making your task easier we are here with 9 best video – creating and editing software mentioned below –
InVideo
InVideo is a professional video editing software. It is not only used by content creators but also by other industries like marketers, publishers, etc., use it to bring out quick, engaging, and appealing videography for their audience. InVideo is a free video editing software that can be used on any platform, including Android, iOS, Windows, Mac OS, and more.
InVideo has brought significant changes in the traditional video-making and editing industry. Through the help of InVideo, the editors no longer spend hours in front of the screen, as it offers pre-made templates, millions of images, and more.
Additionally, the "Quick edit " feature edits your video according to your given custom text. InVideo has all the basic features like trim, crop, rotate, etc. But you can also add gifs, stickers, overlays, effects, and more.
CyberLink PowerDirector
CyberLink PowerDirector isn't as advanced as InVideo, but if you are a person who likes simple and smooth edits, then CyberLink PowerDirector is best for you.
CyberLink PowerDirector is opted for by both professionals and beginners. The easy and quick interface helps professionals to complete their editing faster. While beginners can easily get adapted to the nature of this software as it isn't that complicated to use and understand.
CyberLink PowerDirector is widely used for adding various short clips into a single appealing video. The software offers numerous effects, transitions, etc., to make your video attractive and practical.
Furthermore, you can also add texts, titles, voice, music, and more. In my opinion, CyberLink PowerDirector is an ideal video editing software for everyone who likes to be creative with videography.
Adobe Premiere Elements
Adobe has always been a best friend for editors by providing all essential features under one roof. We are talking about Adobe Premiere Elements; being a paid version, it justifies the price entirely and offers excellent tools for convenient editing.
Adobe Premiere Elements is designed for consumer-level users. However, professionals can use Adobe Premiere Pro for advanced features.
What makes this software comfortable for beginners is its newly added guided edits. They have added up to 87 step-by-step guides for beginners to make a fluent edit and get familiar with the software faster. The software offers automated text, video effects tools, and more.
Nero Video
Nero Video is very known for its free app for Android and iOS, but did you know you can use it on your PC?
Nero Video is the best fit for editors who like giving movie or Film effects on their videos.
The software provides Up to 1000 movie themes and effects; you can use your creativity to bring out the best video through the Nero Video's features. Nero Video gives easy access to everything; you can quickly transfer your files from various devices without compromising quality.
Nero Video has a straightforward interface. And uses a click-and-drag methodology for moving and adding media. Nero Video doesn't provide advanced UI, but it's good enough according to its price.
Corel Video Studio
It is a feature-packed video editing software with an extensive collection of tools for editing videos. My favorite part of this software is stop motion and Multicam editing.
The latest release has some outstanding features such as speech-to-text auto-captioning etc., yes! You have read right. You can generate auto-captions for your video based on its audio input. Along with it, there's a tool for creating videos into GIFs.
With a user-friendly interface, it makes editing more accessible, and the use of AI technology makes it fit in our list. Despite being a video editing software, it consists of both combined features of Photoshop and Adobe premiere.
Corel VisualStudio offers 150 transitions starting from basic fading to 3D effects, and using changes is also much simpler with just the drag-and-drop method. OverOverallcan says that Corel VideoStudio is an excellent alternative to Adobe Premiere elements at an affordable price.
Headliner
Whether you are in marketing, a content creator on social media sites, or a podcast creator, the headliner can help you. A headliner is a free software for Android, iOS, and browsers that allows you to create and edit videos, audiograms, and more.
This software is most suitable for people who want to upload their podcasts on YouTube, Instagram, or other social media sites with attractive and eye-catching videography. The headliner offers tools and features like text animation, audio clipper, video transcription, and more.
What I liked about this software is the easy transferability of the videos. The editor can save the video in multiple sizes according to social media sites and needs without compromising the quality of the video.
Lightworks
Lightworks is already a well-known and straightforward editing software. However, it cannot be apparent to new users. Lightworks isn't an advanced editing software, but it's good enough to help small businesses and YouTubers.
Furthermore, the preset options and effects cut the editor's efforts and give a professional touch to the video without extra cost. You can also create your own effects and save them for further use.
Lightworks is basically free software with an easy-to-use interface, numerous tools, and more. But you can also buy the premium version for additional functions.
VSDC free video editor
If you are new to editing, this is the best software to practice; all the necessary tools are available in this software that too free of cost! The most common issue which pulls us back from excellent editing software is its required latest processors. But unlike other software, VSDC can be used in even outdated PCs without compromising the features.
The software offers trendy effects, filters, transitions, and more. Besides this 360 video editing and color correction, the nonlinear program helps to give a professional touch to the videos. Overall, VSDC is the best effort-saving and HD video-creating software. According to most users, the free version provides enough advanced features for excellent editing. However, you also opt for the pro version for extra features.
Apple Final Cut Pro:-
Keeping Apple users in mind, Final Cut Pro makes it in our list of software, which is for consumers and professionals. Since Apple is known for its world-class Innovation, they have utilized its talents to create a sophisticated collection of editing tools.
One of the prominent features of Final Cut Pro is AI-based auto crop, which crops the content according to mobile fit or other devices, along with its 360 degrees, and VR content can also be edited with color grading.
The best feature that makes this stand out from other software on our list is its collaborative editing feature. That means multiple Apple Final Cut Pro users can work on a single project together. And in terms of importing and exporting the final project, the software works at its peak. The editor can export the end product in multiple formats.
Bottom line of What are the best video-creating and editing software
Let's sum up everything. As said before, choosing a video editing software that fits your budget, completes your necessities, and works on your PC smoothly isn't an easy task, So we came up with our recommendation for What are the best video-creating and editing software after doing tonnes of research . Therefore, before you conclude, ask basic questions like "Why do I want video editing software?" and "How long will I use it?"
The answers to these questions will give you the outline of your requirement and budget. If you are looking for software to edit regular videos for your social media accounts, you better try free software. And if you are a professional, invest in software with all your required features. Happy editing;)
What Are Some Of The Best Data Analysis Tools?