How To Stop A Download On Android – From Play Store To System Updates
Downloading and installing random apps and files on your device can put you in big trouble. Sometimes while using our phones due to little negligence many files and apps get downloaded forcibly. And this is a signal of panic.
However, canceling and stopping the downloads isn't rocket science. So in this blog, we will help you get over these risky challenges easily in various aspects.
Stop Downloading an app from Android App
The straightforward place to download a new app is Google Play Store, and similar to this many other apps have in-app downloads. Which can be in the form of an ad or anything else.
These in-app downloads may start by mistake or the app's given permission. But how to stop a download on Android here? The easy and quick method is to turn off your wifi/data or put your phone on aeroplane mode. If this doesn't work you can wait until it downloads and uninstall it as soon as possible.
However, if this happens frequently on your device, it's better to restrict the downloads rather than face it every time. Here are quick steps to restrict app and file downloads from pre-installed mobile apps.
Step 1:– Open the settings app
Step 2:- Go to apps and notifications then find Advanced
Step 3:- When the advanced open click on special app access then press install unknown apps.
Step 4:- Basically this option is turned off by default for all apps. But check the list of your apps, and confirm that all apps have "Not Allowed" under them.
Step 5:– when you find any app that doesn't have "Not Allowed" go to apps & notification again, search for that app
Step 6:- tap on app permission and toggle the storage option off.
By these steps, you can prevent the download of unnecessary and risky apps.
How To Stop Automatic System Updates
Android has the largest market share in the phone's OS and no doubt it's because of affordability and customization. And we say Customization is entirely possible because of the thousands of apps available for the users.
Hence, if you are one of those people who keeps trying new apps to make complete use of the device, you would always see your phone updating the pre-installed apps automatically. These updations are good but they may end up using a large part of your daily data and phone storage. So, how to stop automatic updates on Android?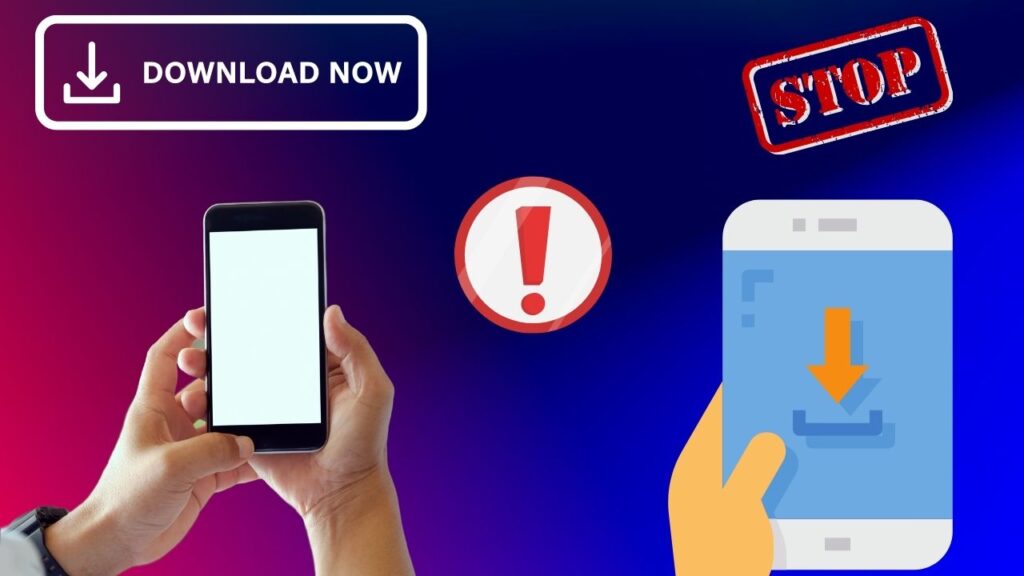 Basically, there are two types of updates, the first one is of the apps as mentioned before and the second is the system software Updates. So let's discuss steps of how to stop a download on Android in such cases.
How to stop the automatic updating of apps in Android?
Step 1:- Go to your apps and open Google Play Store
Step 2:- Once the Play Store opens click on the profile near the search bar
Step 3:- After clicking the Profile you find a pop-up with numerous options, in those click on settings Options
Step 4:- In settings, you can find network preferences
Step 5:- Choose the option as per your preference.
Now, let's see the steps on how to stop automatic system updates in Android.
Step 1:- Go to your settings app
Step 2:- Once the setting apps open, find a software update
Step 3:– Then Tap Auto download & install
Step 4:- In the end choose your preferred option
Isn't it simple? Besides this, we have mentioned the above steps based on the latest Android version. If you still can't find "software update" you can look for it in "about phone".
Use Download Manager To Fix Stuck Downloads
Until now we were discussing how to stop a download on Android that you don't want. But what about the downloads which are downloaded by you intentionally but are stuck? There are numerous reasons why your downloads are stuck, it can be due to a bad internet connection or any other glitch.
However, to get out of this situation you can use the download manager. Most Android phones come with in-built download managers, in case you don't have one, you can get it from Play Store. The download manager is essential for those who like to download files from the internet. Download manager helps you to cancel, pause or restart the downloading process easier on the web.
Stop An App From Being Downloaded From Google Play Store
As mentioned before Google Play Store is the first place where we go to download new apps. But sometimes due to a few copycats, we end up downloading the wrong app instead of the one we need. Henceforth, in this case, if you want to cancel the download, you just need to press the " X " near the progress bar to stop the download.
FAQ's On How To Stop A Download On Android
1) How to stop automatic file downloading in the Google Chrome app?
You would have noticed that when you visit a certain website, Google Chrome starts downloading the files automatically. And to disable this you need to follow these quick steps;

Step 1:- Open the Chrome app and go to settings
Step 2:–  Then select Site settings
Step 3:- After choosing the Site settings, open the "additional permissions" option
Step 4:- Choose the "Automatic downloads" option and change the toggle as per your preference.
2) How to cancel a stuck download in Google Play Store?
The basic steps are the same as mentioned before, but if you are still unable to cancel the stuck download you can try turning off your data/WIFI or rebooting your phone. If even this doesn't help you can follow these quick steps;

Step 1:– Open the Settings app
Step 2:- Go to Apps & notifications
Step 3:-  Find the Google Play Store app
Step 4:– Once you find the app, go to the App info page
Step 5:- Tap Force Stop button and press ok for confirmation.
After following these steps you can go and download the required app again.
3) How to stop the auto download of pdf in Android?
This mostly happens in cases when you keep your phone connected to wifi connection. Thus, Chrome continues running in the background and consumes data for downloading the articles and PDFs automatically. So, stop this unnecessary data and storage consumption you can follow these steps;

Step 1:- Open the Chrome app
Step 2:- Go to settings and locate Site settings
Step 3:- After you go to Site settings press on the PDF documents option
Step 4:- Switch the toggle off.
Conclusion
Finding an unnecessary progress bar in notifications can not only seem annoying but also risky for our phones. In most cases, these downloads occur due to negligence in settings or taps on ads while browsing. And these unnecessary downloads from the internet and third-party apps can harm your device and confidential information.
However, thankfully we have solutions to stop these downloads. Today in this blog we covered most of the questions with their solutions. So, if you ever find yourself in any such situations firstly off data check settings. And if any file or App is downloaded already then delete or uninstall them without opening them.
Why Do Some People Buy iPhones Over Android Phones?